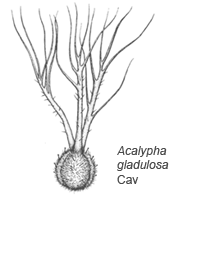 At this time the Acalypha specimen's database includes more than 30.000 records, although not all show their complete data. We are gradually enhanced and extended this information. The studied specimens are focused on tropical American and African countries. We only include the species name (current identification) when the collections has been studied by us. You can find the previous identification (if any) in the advanced search.

The georeferenced specimens can be found on the map provided by Google.

Coordinates enclosed in square brackets [ ] indicate that specimens have been subsequently georeferenced.